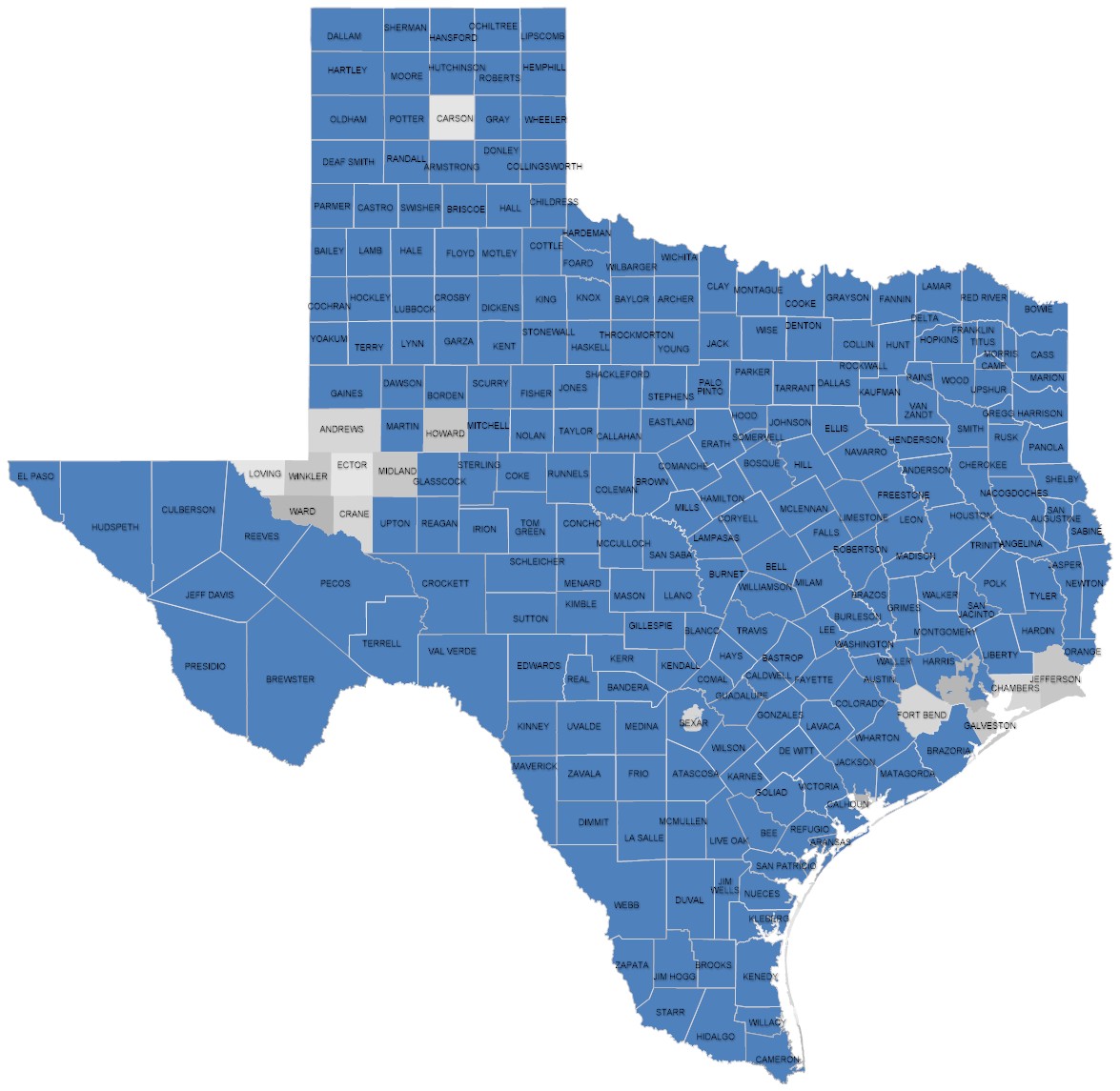 Texas is of course huge. Almost a quarter (25%) of the cooperatives
in the southern states are in Texas and twenty percent (20%) of
the elected cooperative board members. Of the seventy-three (73)
cooperatives, only forty-one (41) or 56.2% had accessible information on their websites and filings. 90.4% of the cooperative members were men, though 49.6% of the state were men, leaving 9.6% participation by women on coop governing boards though 50.4% of the state is women. Racially, 96.6% of cooperative leadership is white, 2% is African-American, and 1.4% is Hispanic, while the statewide demographics are 80% white, 12.4% black, and 38.6% Hispanic.
Bailey County Electric Cooperative Association
Bandera Electric Cooperative Inc
Bartlett Electric Cooperative Inc
Big Country Electric Cooperative Inc
Bluebonnet Electric Cooperative Inc
Bowie-Cass Electric Cooperative Inc
Brazos Electric Power Cooperative
Central Texas Electric Cooperative Inc
Cherokee County Electric Cooperative Association
Coleman County Electric Cooperative Inc
Comanche Electric Cooperative Association
Concho Valley Electric Cooperative Inc
Cooke County Electric Cooperative Association
CoServ Electric
Deaf Smith Electric Cooperative Inc
Deep East Texas Electric Cooperative Inc
East Texas Electric Cooperative
Fannin County Electric Cooperative Inc
Farmers Electric Cooperative Inc
Fayette Electric Cooperative Inc
Fort Belknap Electric Cooperative Inc
Golden Spread Electric Cooperative Inc
Grayson-Collin Electric Cooperative Inc
Greenbelt Electric Cooperative Inc
Guadalupe Valley Electric Cooperative Inc
Hamilton County Electric Cooperative Association
Harmon Electric Association Inc
Heart of Texas Electric Cooperative Inc
HILCO Electric Cooperative Inc
Houston County Electric Cooperative Inc
J-A-C Electric Cooperative Inc
Jackson Electric Cooperative Inc
Jasper-Newton Electric Cooperative Inc
Karnes Electric Cooperative Inc
Lamar County Electric Cooperative Association
Lamb County Electric Cooperative Inc
Lea County Electric Cooperative Inc
Lighthouse Electric Cooperative Inc
Lyntegar Electric Cooperative Inc
Magic Valley Electric Cooperative Inc
Medina Electric Cooperative Inc
Mid-South Synergy
Navarro County Electric Cooperative Inc
Navasota Valley Electric Cooperative Inc
North Plains Electric Cooperative Inc
Nueces Electric Cooperative Inc
Panola-Harrison Electric Cooperative Inc
Pedernales Electric Cooperative Inc
Rayburn Country Electric Cooperative Inc
Rio Grande Electric Cooperative
Rita Blanca Electric Cooperative Inc
Rusk County Electric Cooperative Inc
Sam Houston Electric Cooperative Inc
San Bernard Electric Cooperative Inc
San Patricio Electric Cooperative Inc
South Plains Electric Cooperative Inc
South Texas Electric Cooperative Inc
Southwest Rural Electric Association Inc
Southwest Texas Electric Cooperative Inc
Swisher Electric Cooperative Inc
Taylor Electric Cooperative Inc
Tex-La Electric Cooperative of Texas
Tri-County Electric Cooperative Inc
Tri-County Electric Cooperative Inc. (OK)
Trinity Valley Electric Cooperative Inc
United Cooperative Services
Upshur Rural Electric Cooperative Corporation
Victoria Electric Cooperative Inc
Western Farmers Electric Cooperative
Wharton County Electric Cooperative Inc
Wise Electric Cooperative Inc
Wood County Electric Cooperative Inc