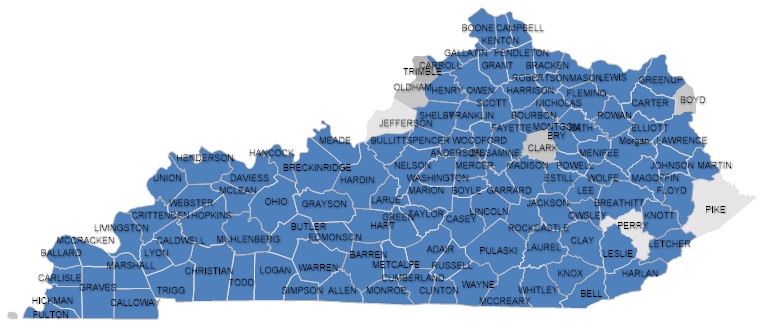 Kentucky is the least diverse state among the twelve (12)
Southern states. Only one in twelve (12) residents is
African-American statewide with 85% of the population
white and only a little more than 8% black along with a
little over 3% Hispanic. Men make up 49.2% of the state
population, but occupy 91.7% of the seats on coop boards. Women
make up 50.8% of the state and only 8.3% of the coop seats. Of
the twenty-four (24) cooperatives, information was available from
eighteen (18) of them or 75%. The giant G&T cooperative made up of a sixteen (16) different Kentucky cooperatives, the East Kentucky Power Cooperative reflects both the scale of the statewide energy enterprise as well as its lack of diversity. The cooperative
controls $3.5 billion in assets serving 1.1 million members. Pictures of the management staff and the executive staff indicate they are all white. There is one Indian-American (not Native American) pictured on their website as part of their financial leadership, otherwise the entire enterprise is white. There are twenty-two (22) members of the board and all of them are white. The Kentucky Association of Electric Cooperatives has much the same profile with fifty-three (53)
members representing the twenty-four (24) coops in the state and with fifty-three (53) board members, forty-seven (47) of
whom are men, and all pictures of board members being white and with only one (1) board member from the Pennyrile
cooperative being African-American, Joe E. Rogers from Cadiz.
Big Sandy RECC
Blue Grass Energy
Clark Energy
Cumberland Vallery Electric
Farmers RECC
Fleming-Mason Energy
Grayson RECC
Gibson Electric Membership Corporation
Inter-County Energy
Jackson Energy
Jackson Purchase Energy
Kenergy Corp
Kentucky Association of Electric Cooperatives    Licking Valley RECC
Meade County RECC
Nolin RECC
Owen Electric
Pennyrile Electric
Salt River Electric
Shelby Energy
South Kentucky RECC
Taylor County RECC
Tri-County Electric
Warren RECC
West Kentucky RECC